Company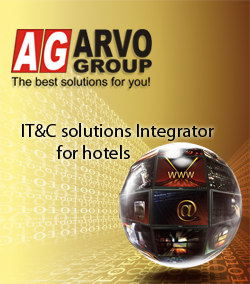 ARVO GROUP is an IT&C solutions integrator for the hotel industry.
We provide systems that integrate, according to the specific requirements of each client, software, audiovisual and multimedia technologies with the management of data-voice networks and IT equipment and terminals.
With us, you can find solutions to all communication within a hotel, appropriate to each category of comfort, from three star to five star plus.
We believe in smart solutions designed to create added-value for your business. Whether you're dealing with technology or just innovations that simplify your day to day activity, ARVO has the right answers for you.
ARVO is determined to help hotelier partners like you, to acquire hi-tech equipment designed to significantly increase their profitability, along with creating competitive advantages.
ARVO has deepened its systems integration expertise for the hospitality industry, especially in the last 11 years, when we have equipped more than 3000 guest rooms with IT&C solutions and content. Among our clients are 24 hotels across the country, most being four and five stars.
ARVO is a well-established presence in its field of activity: founding member of ARTS (Romanian Association for Security Technique), member of CCIRB (Chamber of Commerce and Industry of Romania and Bucharest) and member of ACC (Association of Cable Communication Operators.
We are the first company in Romania having installed an IPTV system in a hotel.

This year we celebrate 20 years since we operate on the Romanian market with the desire and expertise to make things right. Our business grew along with those of our clients and we continue to diversify and better our products and services.
---