TeleAdapt and LG USA Announce Partnership
01.07.2013, LG Electronics USA plans to recommend TeleAdapt's MediaHubTM products as a preferred hospitality connectivity solution, as LG phases out its "Remote Jack Pack" (RJP). TeleAdapt's Media Hub connects seamlessly with LG's Smart TVs, offering a single solution for business owners and enhanced entertainment options for guests.
TeleAdapt's MediaHub products are compatible with LG's SimpLINK CEC technology for automatic sensing and TV-input-switching via a single HDMI cable connection to the TV. MediaHub also has been engineered to interact with LG's proprietary RJP interface.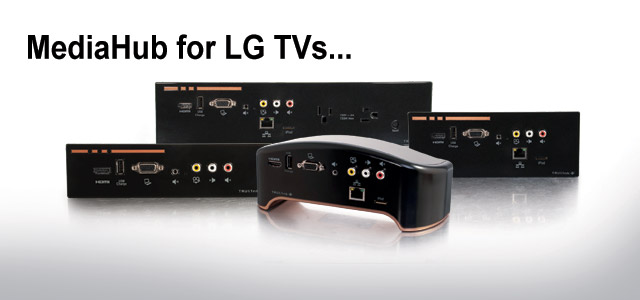 "Having the hotel TV industry leader recommend our product is a testament to TeleAdapt's growth and expertise," said Neil Betterton, TeleAdapt's vice president of global product development. "We look forward to working together with LG to bring tightly integrated mobile device-to-TV solutions to even more hotels and their guests."
LG Electronics pioneered in-room connectivity with its remote jack pack technology's guest-facing audio/video connections that allow hotel guests to use the in-room LG TV as a laptop mirror or secondary screen, game console screen, iPod speakers and more.
As mobile media continues to evolve, TeleAdapt develops connectivity innovations that respond to the growing use of laptops, tablets, smartphones, and other smart devices for faster hotel installation, more affordable options, and enhanced mobile-to-TV connectivity features.

For more information on TeleAdapt's connectivity products for the hospitality industry and LG Electronics hospitality displays, please visit www.rjp.teleadapt.com and www.lgsolutions.com, respectively.

About TeleAdapt - Keeping Your World Connected
TeleAdapt is the world's innovator in designing guestroom products that help hotels keep their guests connected. Solutions include Ethernet connectors, audio/video connectivity devices, power adapters and consumer electronics accessories that allow travelers to make the most of their portable devices and content while traveling. Today, TeleAdapt's guestroom connectivity solutions can be found in over two million hotel rooms worldwide. Founded in 1992 and with operations in the United Kingdom, United States, Hong Kong, China, Dubai and UAE, TeleAdapt's products serve the Hospitality, Retail and OEM sectors worldwide.
ARVO GROUP is a Romanian IT&C solutions integrator for the hospitality industry.
The main activities are providing and integration of interactive television solutions, high speed internet systems, digital signage, multimedia content, low current systems, associated electronic equipment and also software development and distribution.

ARVO GROUP has deepened its systems integration expertise for the hospitality industry, especially in the last twelve years, having equipped more than 4,000 guest rooms with IT&C solutions and content. Among our clients are 27 hotels across the country, most being four and five stars.
---