Communication Networks

Our goal is to provide our clients competitive advantages.
In the current context of technological development, efficient communications networks have become a crucial necessity for business success, anywhere and in any field.

As a systems integrator of IT & C for the hotel industry, ARVO GROUP takes requests for:
Installation of new networks,
Extending existing networks
Extending services through integration of new hardware and software.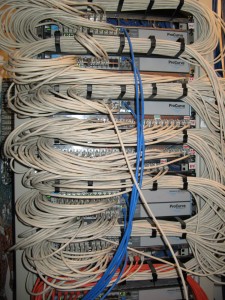 Our main advantage is the ability to help attract new sources of revenue for our clients by integrating new features on local data networks or voice / data (LANs) to meet requirements arising from technological novelty.
We are local distributors of the high-speed Internet solution for hotels (HSIA) promoted by iBAHN, the only global supplier for such technology and at the same time, the supplier with the largest number of users of these services. Thus, we ensure high performance features in building hotel data networks and those used by other clients, followers of the most demanding standards. The products supplied by us have excellent quality and very remarkable reliability.
Through our partnerships, we offer networking solutions for high quality systems and a wide range of electronic components for general and specialized applications such as:
Network adapters
Access points
Switches;
Routers;
Transceiver-e;
Media converters;
Components for wireless solutions;
Our clients are attracted by the solutions we propose, as well as by the professional way to implement them, both for LAN applications and if the WAN type.
---