Plasma TV LCD LED mounts
Why do we need an LED LCD plasma TV stand?
Most TVs LCD type, LED or plasma have table stand included. Exceptions are sometimes those of larger screen sizes.
Since all flat TVs are thin and have a relatively small weight compared to CRT TVs, they can be mounted on the wall, creating a unique look into the room and more space.
In order to choose the appropriate mount, it is important to know the distance between fixing holes, the VESA that can be seen in TV features (VESA 100x100, 200x200 etc.). The TV or monitor diagonal should be located between two limits of he mount.
Depending on placement, can be table and floor stands, wall and ceiling mounts.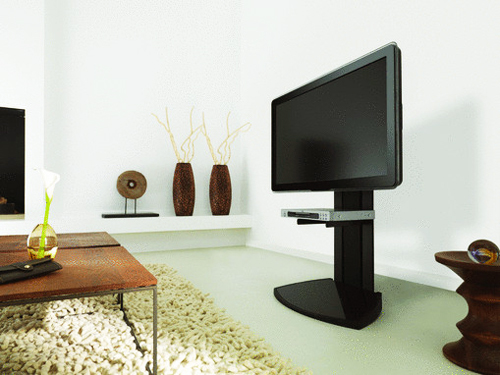 What types of wall bracket for plasma LED LCD TV are there?
There are TV supports that go from unlimited mobility for TV positioning, to fixed mounts, which make impossible to move the TV on the wall.

To choose the right mount, you must answer yourself the following questions:
• How much do I intend to adjust the TV position, in order to have a good viewing angle?
• How close to the wall I want it to be?
• I want to change position with a TV remote?
• I want it to be fixed, simple and as inexpensive as possible?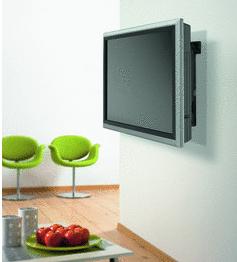 Fixed mount
It is the most simple and inexpensive way to mount a TV on the wall. By this support, the TV is placed closest to the wall. There are models in which the difference between the TV and the wall is of even 14mm. It is very useful in hotel rooms to avoid the guest to handle TV and the mount.

Tilt mount
It can tilt up and down.
It is very useful if the TV is mounted above the optimum viewing angle. And this angle is compensated by tilt.
It is suitable for presidential suites, waiting rooms etc..

Turn mount
It can rotate left and right.
It is very useful if the TV is mounted on one side of the optimal viewing angle. This angle is compensated through turning.
It is suitable for presidential suites, waiting rooms, kitchen, bedroom etc..

Powered support
The most sophisticated type of support, ideal for moving the TV up and down, left and right, back and forth from the wall, from a distance by remote control.
In addition to quality materials, Vogel's products include advanced design concepts and patented innovations.

Discover some of the mounts models we can offer.
---