ETVi - IPTV from iBAHN
About iBAHN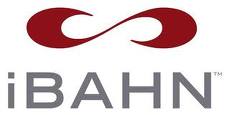 iBAHN's MD EMEA Graeme Powell, comments: "At iBAHN, we understand that technology is ever changing and that guests' expectations of being 'constantly connected' to access digital entertainment and a wider range of content are providing a real challenge for the hospitality industry. iBAHN's partnership with ARVO GROUP will help Romanian hoteliers appreciate and deliver on the growing demand for new technology services that deliver increased revenue opportunities and help to build guest satisfaction through differentiated, personalised offerings."
iBAHN is the only global provider of digital information/entertainment and Internet solutions for the hospitality and meeting industries. Monthly, more than 1.8 million travellers and meeting attendees rely on iBAHN to increase productivity with secure high-speed Internet access options in nearly 3,000 hotels, conference centres and meeting spaces in 41 countries worldwide. iBAHN's digital entertainment and information services feature leading programming in the Americas, Europe, Asia, Australia and India. Operating one of the largest MPLS networks in the industry, the company provides technology solutions to more than 50,000 events annually, ranging from small group meetings to major industry conferences, while serving more than 40% of Fortune 100 corporations.
Technology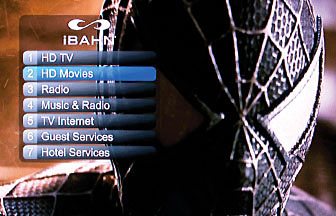 With proven technology, ETVi ensures each hotel will be ready for the digital revolution as the analogue television signal is progressively switched off.
With one single cable, iBAHN's unique IPTV business & entertainment system, ETVi, provides multiple revenue streams for the hotel, at the same time as providing the guest with an unforgettable entertainment experience.
Providing your guests with hours of great revenue generating entertainment, guests can choose from an unlimited choice of digital TV and radio channels, an extensive library of popular on-demand blockbuster movies, short programming, classic or adult titles; up to 10,000 on-demand music tracks, and, not forgetting the communication needs of business clients and leisure guests alike, ETVi's features extend to HSIA, Internet and Email on the TV within the room.
But that's not all! ETVi market-leading, converged IP platform offers up many more exciting opportunities, including: VOIP, Retail (EPOS) and Energy & Building Management Systems-seamlessly integrated within the one, cost effective and compelling hospitality system.
Creating a competitive guest experience can no longer include a basic in-room entertainment package. Investing in ETVi today also means investing in the future, and secures a home-from-home experience for your guests.
A competitive and integrated offering that's tried and tested and offers multiple revenue streams.
Can you afford not to invest?
Benefits
Maximising revenues per available room is the ultimate aim of any hotel-no matter what size, grade or geographic location.
iBAHN systems are designed to deliver profit, at the same time as increasing guest retention.
Guest Benefits
Ease of use
Multi-lingual - over 25 languages
True IPTV
VOD
Music on Demand
Local & International Radio
Guest Services
TV Internet & Email + wireless keyboard
Hotel Benefits
High-end technology
Configuration
PMS and other systems Interfaces
Administration Portal
Remote Monitoring
Guest Messaging
Guest satisfaction
Revenue growth
For a more detailed appraisal of iBAHN products and services, a product demonstration is highly recommended.
Clients
Partnered with the leading hotel groups of the world including Accor, Hilton (92 Hilton hotels across EMEA), InterContinental, Marriott, Ritz-Carlton and Rocco Forte, iBAHN allow guest applications, be it voice, data or video to be fully integrated with hotel PMS, telephony and EPOS systems to deliver a fully integrated and seamless solution. This drives new revenue streams, reduces hotel investment and delivers a greater guest experience.
---